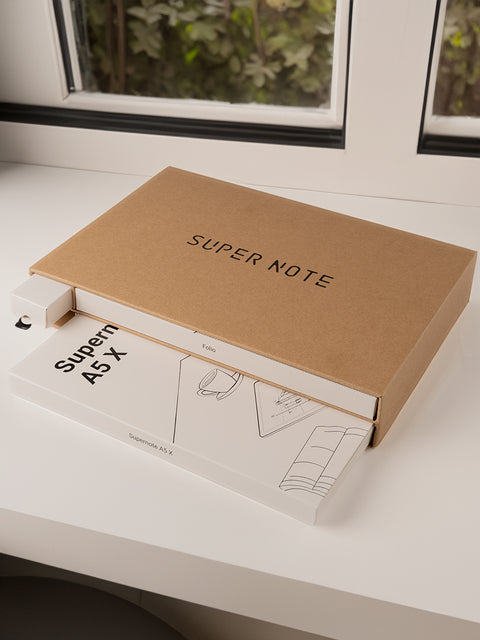 New Supernote Packaging Solution: Embracing Personalization and Sustainability
We have always been committed to promoting personalization, recognizing that each and every user is unique and deserves a tailored experience. That's why we pride ourselves on offering an extensive range of devices, pens and folios to choose from. With 137 unique combinations available, customers have the freedom to create a truly personalized set that suits their needs.
In the past, we utilized a three-in-one packaging method, this worked seamlessly within our logistics system, which was centralized in our Shanghai warehouse. However, as we expand our reach and cater to customers around the world, we face new challenges in local distribution and shipping, particularly in regions such as Europe, North America, and Japan.
With our innovative packaging design, each item has its own separate packaging, allowing for easy identification and organization. This means that the warehouse team can easily pick and pack the individual items as soon as an order is received, without the need for any additional sorting or categorization. This streamlined process not only saves time but also ensures that the order is shipped out promptly, resulting in faster delivery times for our valued customers.
We understand that distributing a wide range of variants locally can often present challenges, but we are proud to say that we have overcome these obstacles. Our dedication and perseverance have enabled us to provide an extensive selection of options that cater to the unique needs and preferences of our customers.
At the same time, we are taking great strides towards sustainability by actively reducing the use of plastic materials in our innovative packaging solutions. By embracing eco-friendly alternatives, we are committed to minimizing our environmental footprint. Our new packaging not only ensures the safety and quality of our products but also contributes to a greener future.
We understand the importance of listening to our customers in order to continuously improve. That's why we highly value your feedback and suggestions regarding our new packaging. Your insights are invaluable in helping us shape our products to better meet your needs and align with our shared commitment to the planet.
Please feel free to reach out to us with any thoughts or ideas you may have. We are eager to hear from you and collaborate on creating packaging solutions that are both effective and sustainable. Together, we can make a significant positive impact on the environment while delivering exceptional products that surpass your expectations.