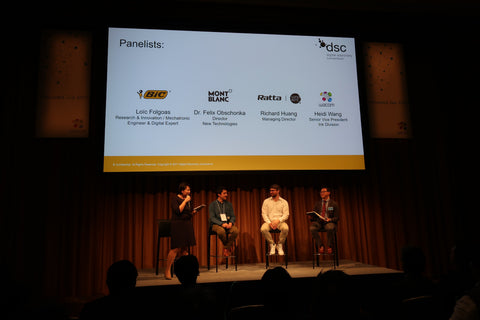 Ratta Supernote at Tokyo Connected Ink 2019 - The Future of Digital Stationery
On November 27, Supernote attended the Connected Ink Global Digital Stationery Summit 2019. As a pioneer brand in the digital stationery industry, Richard Huang, Managing Director of Supernote, gave a speech on "Stationery Digitization - The Origin of Supernote", and demonstrated Supernote's advanced concepts and technologies in the field of digital writing.
Mr. Richard Huang said, "The meaning of stationery digitization is to integrate, not to disrupt, writing will not die! that will exist in a richer way."
Richard Huang, Managing Director of Supernote, speaking on the occasion
Connected Ink is a global event initiated by Wacom that aims to bring the world's leading digital stationery companies to the forefront of digital stationery. By exploring the technology and application solutions of digital ink and digital stylus, it aims to explore the huge potential of digital stationery and offers a wide range of solutions for software, hardware, telecommunication ,technology, as well as the stationery industry leaders 
This year's conference focuses on digital ink and AI, LoT, and 5G connectivity, introducing new possibilities for education, business, healthcare, and stationery. Under the leadership of members of the DSC digital stationery alliance such as E Ink, Fujitsu, LAMY, Montblanc, Samsung, Supernote and Wacom, more and more global top companies such as Microsoft and Lenovo, etc. realized the great potential of digital stationery, Join the digital stationery team and explore the infinite possibilities of the fusion of technology and stationery integration together!
Take up pen and paper again. The birth of Supernote.
From cave graffiti and Cang Jie writing tens of thousands of years ago to modern molecular formulas and programming codes; from clay tablets to paper, reeds to fountain pens, symbols have nurtured human civilization, and pen and paper have carried human history.
And in today's era of information explosion, the amount of information is expanding, but the information surface is shrinking, more and more information been processed, less and less original information, people passively accept information and become slaves of information.
"In the digital age, how should we become masters of information? I thought it was time to pick up the pen again, in a different way." Richard Huang speaks of.
Reinventing paper and pen, infusing traditional stationery with modern digital technology, creating tools of freedom and reclaiming the power of sensuality, Supernote was born.
Link up with industry partners to explore new application scenarios
A single tree does not make a forest, a single string does not make a sound, adhering to the concept of openness and win-win, Supernote conducted in-depth exchanges and cooperation with industry partners such as Bic, Montblanc, Wacom and others at Connected Ink 2019, drawing a clearer blueprint for the future application scene of digital stationery.
Pen, paper and ink are spreading to an interconnected world of digital stationery. In the past few years, global leaders in traditional stationery and IT technology industries are focusing on the emerging market with digital stationery as the core.
Addicted to writing charm of creative exhibition area colorful
The event not only gathered stationery manufacturers, consumer electronics, IT and cloud service providers, but also invited many universities and research institutes, startup communities, media, scholars and analysts, and Supernote did not disappoint them by bringing the latest and most comprehensive "Supernote Family" in the on-site experience area.
In the live experience area, Supernote brought the latest and the most comprehensive "Supernote Family" to the exhibition. The personal style of "traditional and trendy" and the rare quality of "focused and extreme" also attracted many visitors to experience it. The live sketching, drawing and note-taking demonstrates the magic of writing.
The Supernote booth was particularly well attended by visitors from North America and Japan - cartoonists, engineers, and stationery enthusiasts who are passionate about the digital handwriting experience, who accompany and inspire Supernote's growth.